Website Promotion
Related links: Website Statistics | Website Analyzer Tool | Website Promotion Tips

What is it used for? | How Do I Submit My Website? | Directory Title | Keywords | Description | Steps to Promote Your Web site to Search Engines
What is the site promotion tool used for? The Site Promotion function makes submitting your Web site to search engines easier by organizing the tools for search engine submission. You need to
optimize your Web site
before submitting it. The
Website Analyzer tool
can be used to detect any problems that could interfere with successful submission, such as broken links or pages that load too slowly.
How Do I Submit To Search Engines?
From the Administration home page, click on the blue text of your sitename. Click on "Tool Box" from the secondary navigation menu links.

Click on "Website Promotion" at the bottom of the page.

The Site Promotion function can submit your Web site to google.com, hotbot.com, and scrubtheweb.com.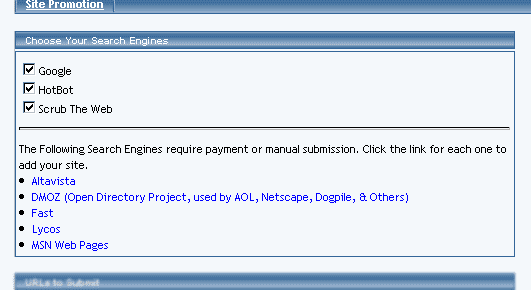 Also listed are links to search engines that require payment or manual submission.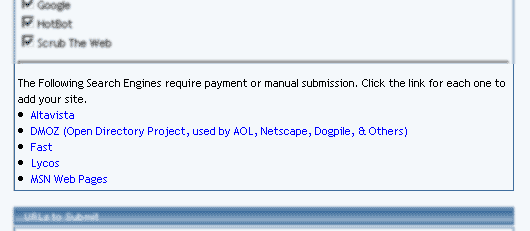 The links will take you directly to the page that will instruct you on how to submit your Web site to that search engine. Under "URLs to submit", select which Web address that you want to submit to the search engines. Due to new search engine rules, please select only one Web address to submit.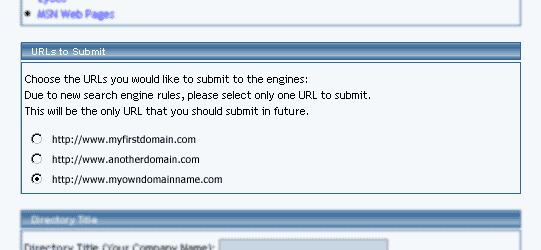 Back to the Top of the Page
Directory Title
For "Directory Title", this is the same company name as it appears on your home page, and it will be verified by the search engine companies.

Back to the Top of the Page
Keywords
For "Keywords", enter in keywords that will describe your Web site to visitors on the Web. The keywords should be as unique as possible while still describing your business and your Web site. The keywords should be separated by commas and should not have any HTML.

Back to the Top of the Page
Description
For "Description", use 25 words or less describing who you are and what you provide. The description must be full sentences and should make sense (rather than listed whole bunch of keywords with commas).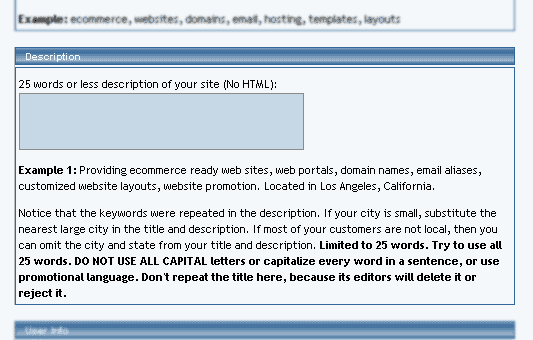 The User Information (first name, last name, email address) area are required fields so that the search engine companies can record who is submitting a Web site to them.

When you are done configuring all of the options, click on the button "Submit Your Site to Search Engines" to submit your Web site to google.com, hotbot.com, and scrubtheweb.com.

Back to the Top of the Page
Promote your Website
For submitting your site to Search Engines, there are three main parts. One, you need to think of approximately 25 to 30 keywords for your site. Write it out in a basic text editor program, such as Microsoft Notepad or Apple TextEditor. You will also need a 2 to 3 sentence description about who you are, where you are located, and what you provide. Also write this description in the same text document. Save this text document to a location on your computer that you can easily remember. Some notable keywords to use include your Domain Name and your location (city, zipcode, or state). If your pages contain different content (which they usually do), your keywords and description should be different for each of the pages.
Second, the keywords and description need to be inputted
here
to all of your pages for best results. Keywords and description should be different and related to each of your pages.
For best results as well, input your main key phrases (5 to 6 words) in to the titles. All you will be doing is copy-pasting from the text document to the other pages, so this helps you out so you won't have to type things out repeatedly.
After parts one and two are completed, then you only need to do part three once a month. Part three is submitting your site to search engines by using the Website Promotion Tool. Here, you also copy-paste the keywords and description from the text document to here, then you submit your site.
Please keep in mind that being listed on Search Engine companies can take anywhere from 1 day to 4 months. The tips listed above should shorten that time and greatly improve your rankings. Also, the Web site should be submitted to as many search engine companies as you can find. Most search engines companies have the ability to submit your Web site to them for free. The Website Promotion tool provides courtesy links to the exact page that you would need to go to learn more on how to submit your site to that search engine.
Back to Promote Your Website
Back to the Top of the Page