Website Analyzer
What is it used for? | How do I use it? | Broken Link Report | Download Time Report | Images in Use Report
What is it used for? The Website Analyzer Tool will allow you to analyze your entire site. It will detect broken links, broken images and the amount of time each page on your site will take to be downloaded on a 28.8kbs modem. Please use this tool in conjunction with the
Website Promotion Tool
. Doing this will increase and expedite your chances of inclusion and rankings for all of the major search engines and will prevent possible problems when the search engines visit your site.
How do I use it?
From the Administration, home page, click on blue text of your sitename. From the secondary menu navigation links, click on "Tool Box". Click on "Website Analyzer".
When the Website Analyzer Tool is run for the very first time, click on the link "Generate New Report".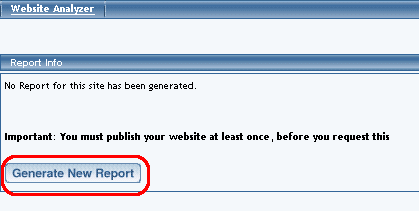 Your Web site will then be processed by the Website Analyzer server. The Website Analyzer Tool will report "Please come back and check the status of the report generation at a later time. Thank you for your patience."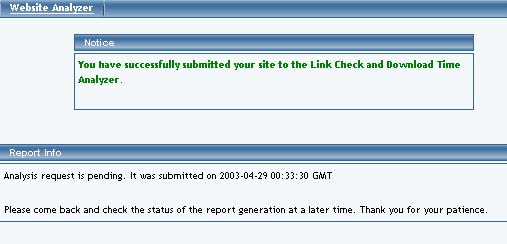 The Website Analyzer report will be generated and will take approximately 2 to 5 minutes to be completed. When it is done, you will see the following screen: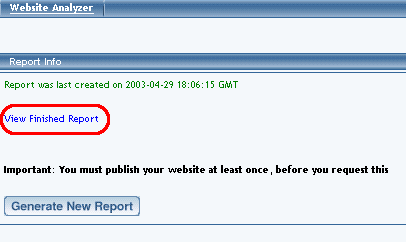 You can then click on the blue text "View Finished Report" to view the Website Analysis report. The picture below will show you what the report will look like when completed.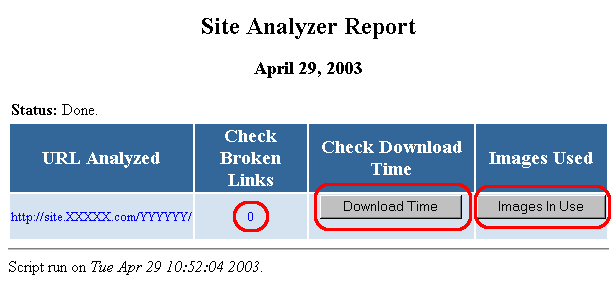 Back to the Top of the Page
Broken Link report
If you have any broken links, click on the number that specifies how many broken links exists on your Web site (if you have no broken links, the number "0" will not be a link). Below is a sample results page that displays what the Website Analyzer report will specify as broken links.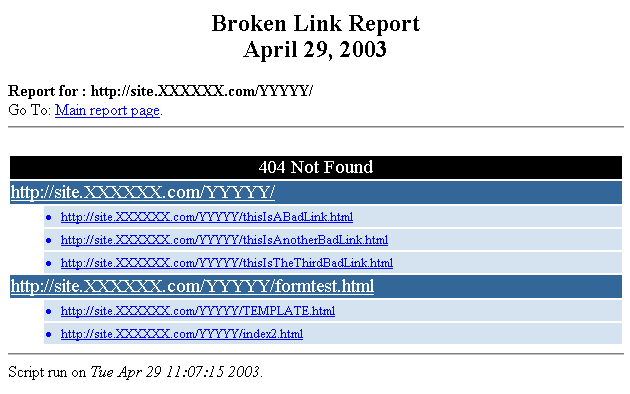 Back to the Top of the Page
Download Time report
To find out approximately how long your pages will take to download on a 28.8k modem, click on the button "Download Time". Below is the report that you will see specifying the size of your pages as well as the approximate download time on a 28.8k modem.
Back to the Top of the Page
Images in Use report
To find out which images you are currently using, click on the button "Images In Use". Below is the Website Analyzer report valid images that are in use on the Web site.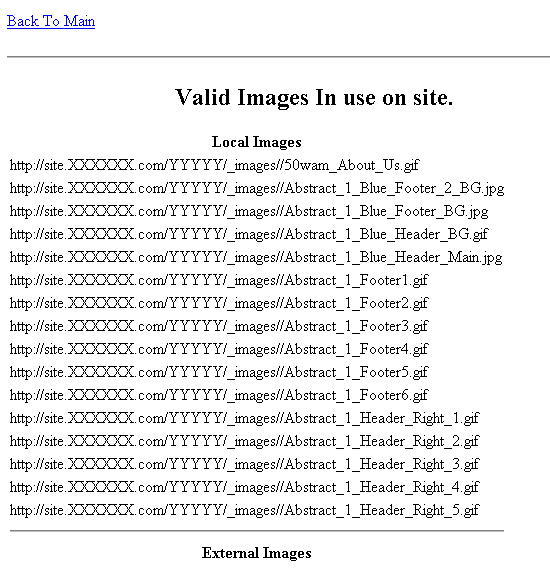 Back to the Top of the Page