Other Component
Search Result
Related Links: How to Add a Component | How to Modify a Component | Editing Basics

Overview | Edit Search Results Component
Overview
To allow your Web site visitors to search your entire Web site, you must add a
Search Component
, a Search Result Component, and you must also create a database of your site by
Rebuild a Search Engine
.

Click on "Page" in the top-left corner of the Page Editor. Click on "Other". Click on "Search Result".

Edit Search Result
The options for the search result component allow you to specify the title class, the content class, and page class for the component.

Specify the number of search results to display per page in the provided field.

For the drop-down menu "Display Descriptions On Result", specify whether you want your search results to display a summary description of the page.

When done configuring your options for the component, click on the button "Update" to save and apply your changes to the Web page.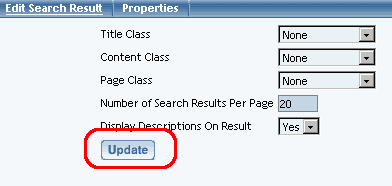 Back to the Top of the Page
Editing Basics
Back to the Previous Page